Serrano Lavado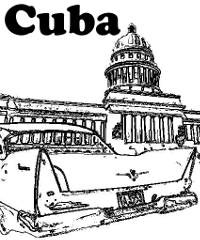 I should (you should?) really thank the "Cuba Norte" bar which opened for a time (yes they went belly up) just a couple of doors up the road from our Morrison St shop.
Ah hah, surely they'll be interested in authentic coffee from Cuba? We duly sourced a couple of bags for our "Christmas special", dropped a few hints and ....
Suffice to say we had no intention of keeping the Cuban on as a list coffee originally but...
Who says that the best Carribean coffee comes from Jamaica?
The taste!
Roasted to just above medium, you still get the characteristics of the coffee, full, smooth with a hint of a sweet woody backnote and then a subtle shove from the roast.

There currently are no "individual" coffees commercially exported from Cuba, so there is very little to say about the origin other than "Cuba".